Marie Gutheil-Schoder

Foto: D'Ora Kallmus (1881-1963)
Mit freundlicher Genehmigung
Österreichische Nationalbibliothek Copyright

1874 - 1935
.
.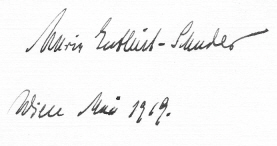 The singer Marie Gutheil-Schoder began her singing education already as a child in 1880 and later she attended the music school in Weimar. Afterwards she could begin her professional career at the age of 17 at the opera of Weimar where she made her debut in Goethe's "Faust". She remained active there till 1900. Richard Strauss became aware of the potential of Marie Gutheil-Schoder and took her to Bayreuth.

But also other famous composers went after her. She was engaged at the opera in Vienna by Gustav Mahler and she appeared there regularly till 1927.
Marie Gutheil-Schoder became a popular opera singer who had her greatest successes as a singer of Mozart works but also for compositions of modern composers.

Besides her activity as an opera singer she also directed some shows.

Thanks to her popularity she was also engaged for one movie in 1924. She took part in the production "Das verbotene Land" (24) directed by Friedrich Feher at the side of Erika Glässner, Vilma Banky, Oscar Beregi, Hugo Thimig and Victor Kutschera.

Marie Gutheil-Schoder was married with the bandmaster Gustav Gutheil and with the photographer Franz Xaver Setzer.