Cläre Grieger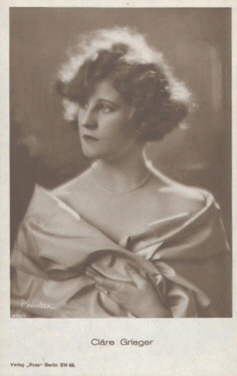 Foto: Alexander Binder (1888-1929)

1904 - 1988
.
.
The actress Cläre Grieger (also known as Claire Grieger) made first experiences as an actress at the theater before she entered the film business in 1919 with "Lotte als Schulschreck" (19) at the side of Hilde Wörner and Harald Paulsen.

But the film remained a niche in her career and she continued her movie career in the 20s with few more appearances.
To her last movies belong Emil Justitz's "Vitus Thavons Generalcoup/Der gestohlene Professor" (24) with Olaf Fjord and Camilla von Hollay and as Daisy Russell in "Der Klabautermann" (24) with Evi Eva and Wilhelm Diegelmann.

Later she went to the USA where she died in Los Angeles in 1988.