Maryla Gremo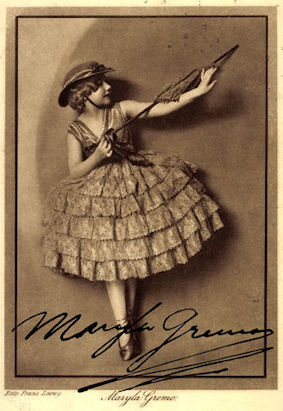 Foto: Franz Löwy (1883-1943)

1911 - 1985
.
.
The child actress and dancer Maryla Gremo appeared on stage as a dancer from a very young age.

This finally led to few film appearances from 1919.

She acted in the movies "Am Kreuzweg der Leidenschaft" (19) with Arthur Bergen, Fred Immler, Marga Köhler and Grete Reinwald as well as in Friedrich Wilhelm Murnau's "Satanas" (19) at the side of Fritz Kortner, Ernst Hofmann, Margit Barnay, Else Berna, Jaro Fürth, Conrad Veidt and Ernst Stahl-Nachbaur.

One year later followed her last cinematical work with "Sehnsucht" (20) again directed by Murnau with Conrad Veidt, Gussy Holl, Eugen Klöpfer, Margarete Schlegel, Paul Graetz and Hubert von Meyernick.

After that she concentrated entirely on her dancing career, which she was able to continue successfully into adulthood.