Ferdinand Gregori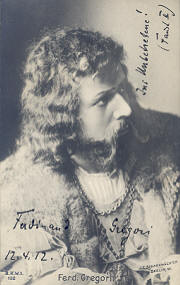 1870 - 1928
.
.
The actor Ferdinand Gregori was a distinguished stage actor who made his theater debut in 1895 at the Deutsches Theater under the management of Otto Brahn.
After other stops he was called back to Berlin by Max Reinhardt in 1916.

Ferdinand Gregori only took part in few movies during his career, to these movies belong "Die Frau im Käfig" (19), "Verlogene Moral" (21) with Eugen Klöpfer and Adele Sandrock as well as "Herzog Ferrantes Ende" (22) at Ernst Deutsch's and Paul Wegener's side.