Christiane Grautoff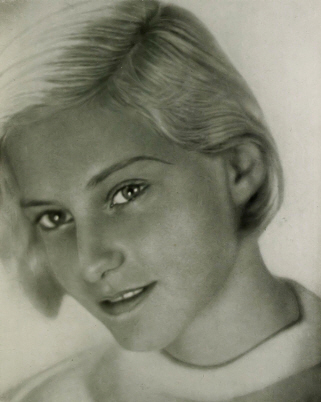 Foto: Yva (1900-1944)

1917 - 1974
.
.
The actress Christiane Lili Grautoff already began her stage career as a child and she appeared among others in the play "Emil und die Detektive" (30) at the Max Reinhardt Theater in Berlin.

She impressed the critics and was recommended as a promise for the future.

The film business became aware of her soon as well and she played her first movie role in "Luise, Königin von Preussen" (31).
It followed other movies like "Mieter Schulze gegen alle" (32) and "Die Nacht der grossen Liebe" (33).

At this time she was allied with the writer Ernst Toller.

When Christiane Grautoff refused to play in the propaganda movie "Hans Westmar" in 1933 she went into exile to London together with Ernst Toller. Two years later they got married.

Later they moved to the USA where Ernst Toller committed suicide in 1939.
Christiane Grautoff continued her stage career in the USA and went on tour which led her to many states. Later she also played in New York.

She got married with the writer Walter Schoenstedt in 1940.
After an interruption of few years she continued her stage career on Broadway in 1948, one year later she also published her children's book "The Stubborn Donkey".

She spent her remaining years in Mexico. Her granddaughter Christianne Gout became an actress and dancer.