Willy Godlewski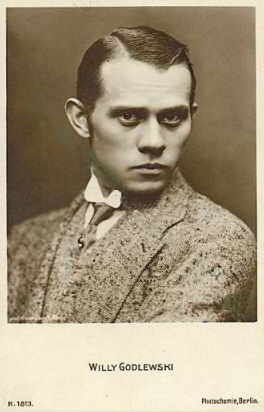 1892 - 1943
.
.
The actor and dancer Willy Godlewski was born as Karl August Godlewski in Breslau.

He finished an education as a ballet dancer beofre he appeared on different German stages as a dancer. With that he continued the tradition of his family.
He became a ballet master in 1915 and two years later he went on tour with Grete Wiesenthal. Afterwards he continued his career as a solo dancer and he took over elements of the free dance till to the pantomime.

When he was engaged as ballet master in Zurich in 1924 he concentrated to the dramatic dance and he was soon successful in this field.
From 1926 followed again engagements in Germany but also in Switzerland.

Willy Godlewski took part in his first movie in 1914 called "Die Doppelnatur" (14). In the next years followed other appearances in front of the camera for the productions "In einer Nacht" (18), "Hilmi Paschas Abenteuer" (19),"Das Irrlicht im Osten" (19) and "Miss Venus" (21).

For the movie "Das Irrlicht im Osten" (19) he was not only active as an actor but also responsible for the direction.

His dancing abilities were also used for choreographies which he created for the movies "Der Verschwender" (17) and "Miss Venus" (21).