Irma Godau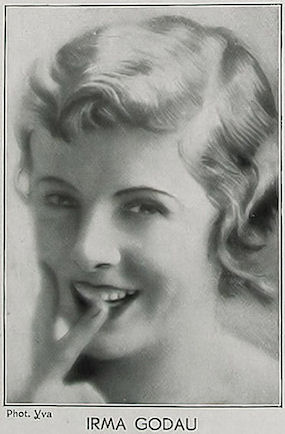 Foto: Yva (1900-1944)

? - ?
.
.
The actress Irma Godau joined the film business in 1930 but her career remained limited to few years.

In her first movie "Die grosse Sehnsucht" (30) she played the role of Mary at the side of Camilla Horn, Theodor Loos, Harry Frank, Paul Kemp, Paul Henckels, Anna Müller-Lincke, Karl Platen, Lil Dagover and Liane Haid.

Afterwards she was the dancer Georgette in Eugen Thiele's "Susanne macht Ordnung" (30) with Truus van Aalten, Franz Lederer, Mary Parker, Albert Paulig, Max Ehrlich, Szöze Szakall, Kurt Lilien, Senta Söneland, Lotte Stein and Maria Forescu.

As Prima-Ballerina Trampusch followed the production "So lang' noch ein Walzer vom Strauss erklingt" (31) with Hans Junkermann, Gustav Fröhlich, Julia Serda, Maria Paudler, Fritz Spira, Ferdinand Bonn, Valerie Boothby, Fritz Greiner and Julius Falkenstein.

Her last cinematical work came with the short movie "Welle 4711" (33) into being. As Adelheid she acted at the side of Wilhelm Bendow, Julius Falkenstein, Karl Harbacher, Theo Lingen, Paul Morgan and Eugen Rex.