Ingeborg Gleichen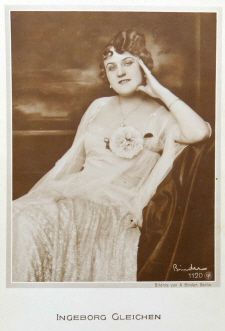 Foto: Alexander Binder (1888-1929)

? - ?
.
.
The actress Ingeborg Gleichen normally worked at the theater, her appearances in movies remained seldom.

In her first movie "Im stillen Ozean" (17) directed by Danny Kaden she impersonated the role of Hedwig at the side of Heinrich Peer, Käthe Dorsch, Julius Falkenstein, Esther Carena and Victor Jansen.

In the same years already followed her last work in front of the camera for Robert Heymann's "Die Memoiren des Satans" (17) with Ferdinand Bonn as Sherlock Holmes, Kurt Brenkendorf, Friedrich Kühne, Arthur Schröder, Paul Passarge, Käthe Dorsch, Grete Weixler, Valy Arnheim, Hugo Flink and Ernst Hofmann.