Lore Giesen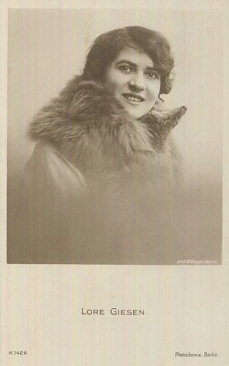 Foto: Wilhelm Willinger (1879-1943)

? - ?
.
.
The actress Lore Giesen belonged the first actresses who took part in German movies.

Her first cinematical work can be backdated to 1912 where she took part in "Entehrt" (12).
It followed other movies like "Das Mirakel" (13) with Anton Ernst Rückert, "Seine Karriere" (13) with Heinz Sarnow and "Die Landkur" (13) with Gerhard Dammann.

Afterwards followed several movies within a short period, among them "'s kommt anders" (16) with Siegfried Berisch, "Aus Liebe gefehlt" (16) with Lupu Pick and Victor Janson, "Heiratskontor Lindenbaum" (16) with Siegfried Berisch, "Ihr liebster Feind" (16) with Tatjana Irrah and Reinhold Schünzel, "Pimpelmeiers Brautfahrt" (16) with Karl Harbacher, Franz Hofer's "Der Posaunenengel" (16) playing the role of the maidservant with Lya Borré and Fritz Achterberg and "Ein toller Abend" (16) with Manny Ziener and Karl Harbacher.

Afterwards she retired from the film business.

Her sister was the actress Tatjana Irrah.