Carla Gidt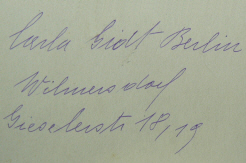 1904 - ?
.
.
The actress Carla Gidt began her career at the theater where she appeared among other cities in Teplitz-Schönau and in Bielitz in Poland before she came to Berlin in 1929.

She also impersonated few support roles in movies at the beginning of the 30s.

To these works belong "Zweierlei Moral" (31) directed by Gerhard Lamprecht with Walter Rilla, Aribert Wäscher, Elga Brink, Hilde Hildebrand, Ida Wüst and Rudolf Lettinger, as Carlotta in Karl Grune's "Das gelbe Haus des King-Fu" (31) with Charlotte Susa, Gustav Diessl and Paul Graetz, playing the role of a kiosk seller in "Um eine Nasenlänge" (31) with Siegfried Arno, Lucie Englisch, Elga Brink, Ernst Verebes, Julius Falkenstein, Max Ehrlich and Paul Kemp and finally as a maid in Max Neufeld's "Der Diamant des Zaren" (32) at the side of Liane Haid, Ivan Petrovich, Max Gülstorff, Viktor de Kowa and Kurt Lilien.