Rita Georg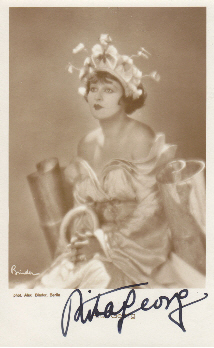 Foto: Alexander Binder (1888-1929)

1900 - 1973
.
.
The singer and actress Rita Georg was developed and promoted by the famous composer Franz Léhar.

Even before her singing career became established she took part in her first movie "Das Gebot der Liebe" (19) with Ernst Behmer, Olga Engel and Eva May.

But the film business remained a minor point and she concentrated to her singing career.
She often took part in plays of Léhar, among them the world premiere of "Der Zarewitsch" (27) but it also followed engagements in plays of other composers.

With the rise of the National Socialists she left Germany and she went to France where she continued her career as a singer. But few years later the political circumstances she fled from came to France as well.
During her stay in France she appeared in her second movie "Crémaillière" (34) - a short movie with Magdeleine Bérubet and Maurice Rémy.

She went to the Netherlands where she continued her career at the "Theater der Prominenten". But also this asylum was not safe and in 1943 Rita Georg was arrested by the Germans.

After her release she emigrated again.