Hilde von Geldern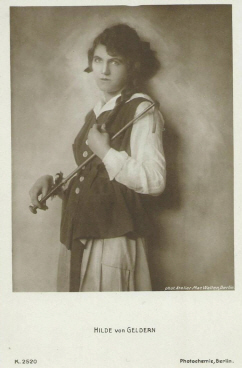 Foto: Mac Walten (1872-1936)

? - ?
.
.
The actress Hilde von Geldern took part in only few movies during the silent movie era.

She appeared in her first movie "Hang Lu oder: Der verhängnisvolle Schmuck" (19) at the side of Olga Engl, Friedrich Kühne, Heinrich Peer, Rosa Valetti and Hans Wassmann.

Afterwards she impersonated the role of Hilde Matthes in "Eine Künstlerehe am Kurfürstendamm" (21) with Paul Bildt and Kurt Skalden.