Elsie Fuller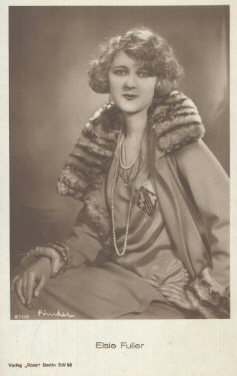 Foto: Alexander Binder (1888-1929)

1902 - ?
.
.
The actress Elsie Fuller (also listed as Elsie von Koczian) took acting lessons in London and could start her stage career in New York afterwards.

In the USA she also made her film debut using the pseudonyme Elsie La Coure. She appeared in the movies "His Pal's Gal" (20), "The Hobo of Pizen City" (20) and "The Holdup Man" (20). These movies belonged to a mini-serial about young Buffalo Bill impersonated by Philip Yale Drew.

Afterwards she took part in "Matrimonial Web" (21) at the side of Alice Calhoun and Joseph Striker. For this movie she used the name Elsie Fuller.

Finally she went to Europe where she continued her film career in Germany and England.
To her movies of those years belong "Maciste und die chinesische Truhe" (23) directed by Carl Boese with Jakob Tiedtke, Toni Wittels and Ferdinand Martini, "Der Tiger des Zirkus Farini" (23) with Arnold Korff, Rudolf Lettinger and Hermann Picha, Gerhard Lamprecht's "Die Andere" (24) with Xenia Desni and Fritz Alberti as well as "Tons of Money" (26) with Leslie Henson and Mary Brough.

Under her married name Elsie von Koczian she also wrote two scripts - Mauritz Stiller's "The Woman on Trial" (27) with Pola Negri and Arnold Kent and "Hanneles Himmelfahrt" (34) with Inge Landgut, Käthe Haack, Theodor Loos and Rudolf Klein-Rogge. This movie was directed by Thea von Harbou.

Her daughter Johanna von Koczian became a well-known actress too.