Lieselotte Fülster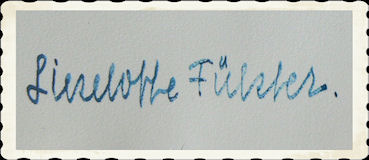 1918 - ?
.
.
The actress Lieselotte Fülster began her film career with the short movie "Der Musikfeind" (37) with Josefine Dora, Josef Reithofer and Hermann Schröder.

One year later followed the production "Capriccio" (38) directed by Gerhard Lamprecht with Lilian Harvey, Paul Dahlke, Viktor Staal, Aribert Wäscher, Paul Kemp as well as Margot and Hedi Höpfner.

In 1940 she took part in the movie "Der dunkle Punkt" (40) with Jupp Hussels, Ludwig Schmitz, Mady Rahl, Lina Carstens, Albert Florath and Ernst Legal.

In the following year came her last cinematical works into being. To these movies belong "Unser kleiner Junge" (41) at the side of Hermann Speelmans, Hilde Jansen, Lotte Koch, Ernst von Klipstein, Ernst Waldow and Paul Westermeier as well as "Clarissa" (41) playing the role of Erna Wunderlich, directed by Gerhard Lamprecht. To her co-stars belonged Sybille Schmitz, Gustav Fröhlich, Gustav Diessl, Charlotte Radspieler, Elga Brink, Josefine Dora, Gerhard Dammann and Albert Florath.