Olivia Fried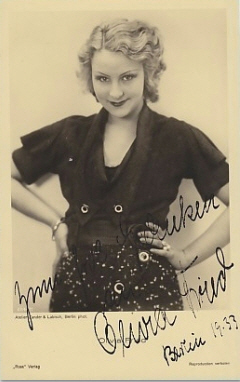 Foto: Siegmund Labisch (1863-1942)

1911
.
.
The actress Olivia Fried was active as a movie actress both in Germany and Italy during the 30s and she took part in several productions.

Her first movie was "Das gestohlene Gesicht" (30) with Hans Otto, Max Adalbert and Edith Edwards, it followed Harry Piel's "Er oder ich" (30) playing Eveline mit Harry Piel, Valerie Boothby and Hans Junkermann, "Gloria" (31) with Gustav Fröhlich, Brigitte Helm and Fritz Kampers and the short movie "Fasse dich kurz" (32) with Siegfried Berisch and Victor de Kowa.

Afterwards she dedicated to Italian movies where she again impersonated some roles.
To these works belong "Ballerine" (36) directed by Gustav Machaty, "Reina della Scala" (37), "Luciano Serra, pilota" (38) with Amadeo Nazzari, "L'antenato" (38), "L'allegro cantante" (38) with Germana Paolieri, "Eravamo sette sorelle" (39), "Allegri masnadieri" (39) and playing the role of Margherita Brambilla in "La mazurka di papa" (40) with Vittorio de Sica.