Viktor Flemming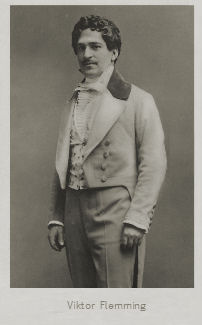 Foto: Ludwig Gutmann (1869-1943)

1886 - 1944
.
.
The actor, singer and composer Viktor Flemming was born as Victor Fleminger in Vienna and he soon wanted to become an actor.

Already in 1903 he acted at the "Versuchsbühne des Dilettanten-Vereins" in Pilsen and one year later he acted at the theater of Pilsen and got positive critics. It followed tours through many Austrian cities. With his role in "Die Fledermaus" he got in touch with the operetta for the first time. He felt very comfortable and in the next years he concentrated to this profession.
As an operetta singer he was active at the Theater an der Wien for more than ten years and about 30 years at the Raimundtheater. There he became a dream team together with the operetta singer Betty Fischer for 25 years and they also went on tour together.

Because of his success he was also engaged from Radio Vienna for operetta programs in 1924.
Beside it he was also a composer and librettist.

Viktor Flemming also appeared in front of the camera for few movies. To these productions belong "Mit dem Schicksal versöhnt" (18), afterwards "Die brennende Brücke" (22) at the side of Nora Gregor, again with Nora Gregor in "Die kleine Sünde" (23) and "Franz Lehar" (29) in which the composer Lehar took also part.

On March 12 1938 Viktor Flemming appeared in the operetta "Gruss und Kuss aus der Wachau" at the Volksoper at the side of Hilde Güden, only three days later his name was no longer mentioned in newspapers.
With the takeover of the National Socialists in Austria his successful career ended abruptly. He could flee to Luxembourg together with his wife and he life there by Betty Fischer. But already in 1940 the National Socialists entered the Benelux countries and the Jewish population were deported. Viktor Flemming was deported to Germany on April 6, 1943 and one year later he came to Theresienstadt. At the end of October 1944 followed the deportation to Auschwitz where his traces have vanished.

His wife who was not a Jew remained back in Luxembourg where she already died on February 29, 1944 - about eight months before Viktor Flemming.