Hanns Fischer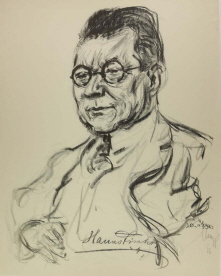 Bild: Emil Stumpp (1886-1941)

1865 - 1952
.
.
The actor Hanns Fischer began his career at the theater in Berlin for Otto Brahm. It followed engagements in Dresden and Hamburg.

He only appeared sporadically in front of the camera.
He took part in the productions "Lottchens Heirat" (20) playing Gotthold Ephraim Mühlenbruch with Lotte Stein, Vilma von Mayburg and Lilly Flohr, as Maxim in "Eine Demimonde-Heirat" (20) with Lya Mara, Ilka Grüning, Ledopold von Ledebur, Olga Engl and Heinrich Peer, "Uriel Acosta" directed by Ernst Wendt with Margit Barnay, Bruno Decarli, Paul Rehkopf and Leonhard Haskel as well as in the role of Gerhard Beck in Lupu Pick's "Der Dummkopf" (20) at the side of Max Adalbert, Otto Treptow, Eugen Rex, Paul Heidemann, Rosa Valetti, Wilhelm Diegelmann, Frida Richard and Fritz Richard.

Beside his activity as an actor Hanns Fischer also wrote few screenplays like "Der lustige Witwer" (20), "Lottchens Heirat" (20) and "Der Unheimliche" (22).