Tilly Feiner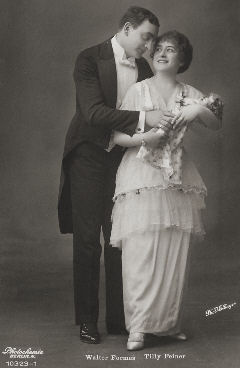 Foto: Wilhelm Willinger (1879-1943)

1890 - 1942
.
.
The actress Tilly Feiner felt at home on stage primarily and she only appeared rarely in silent movies.

She made her first movie with "Franz Schubert" (17) with Hans Steiner and Hilde Knoth.

It followed a longer interruption before she continued her film career and she took part in few more productions like "Tischlein deck dich, Eselein streck dich, Knüppel aus dem Sack" (21) as Rosel with Sophie Pagay, Carl Geppert and Emil Birron, as maidservant Bärbel in "Am Brunnen vor dem Tore" (22) with Frantisek Cerny and Melitta Kiefer and finally as circus horsewoman Charlotte Renief in "Das sonnige Märchen vom Glück" (24) with Alfred Braun, Carl Geppert and Leo Leux.

As a Jew she was no longer able to work from the 30s. She was killed in the concentration camp in Auschwitz in 1942.