Helene Fehdmer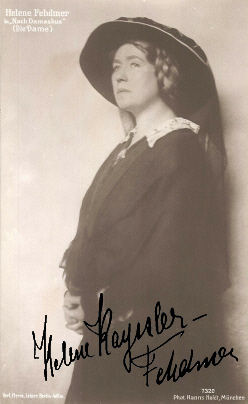 Foto: Hanns Holdt (1887-1944)

1872 - 1939
.
.
The actress Helene Fehdmer was interested in painting at an early age because her father as well as her brothers were painters too. But finally she decided to become an actress and after acting lessons she made her stabe debut in Wildbad.
Afterwards she went to Berlin where she became established as a theater actress. It followed appearances in Vienna and finally in Berlin again.

She only appeared sporadically in movies.
her first appearance in front of the camera was for "Es gibt eine Frau, die dich niemals vergisst" (30).
It followed other productions like "Luise, Königin von Preussen" (31), "Eine von uns" (32), "Das erste Recht des Kindes" (32), "Die vom Niederrhein" (33), "Der ewige Traum" (34), "Friesennot" (35), "Der Herrscher" (37) and "Ballade" (38).

Helene Fehdmer was married with the actor Friedrich Kayssler.