Erika Falgar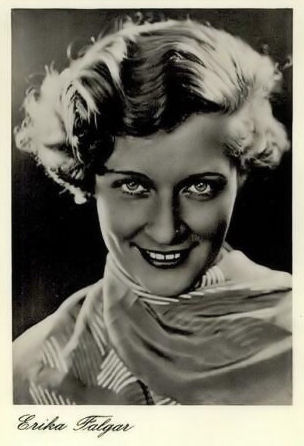 Foto: Theater PLAZA

1909/10 - 1933
.
.
The singer and actress Erika Falgar was spotted by accident by the brothers Alfred and Fritz Rotter when they walked through Basle and heard her singing through a window.
They engaged her as an alternative singer for Gitta Alpar for some operettas before she was engaged by the Dayelma-Ballett at the scala.

Other appearances followed, among others at the Nollendorfplatz in "Schwarze Husaren".

She was spotted for the film business in 1933 and she played the role of Liane Gruber in Carl Boese's production "Heimkehr ins Glück" (33) with Luise Ullrich, Paul Hörbiger, Heinz Rühmann, Ludwig Stössel, Paul Heidemann and Wolfgang Staudte.

She was at the beginning of a promising career when Erika Falgar died at the age of only 23 after a longer illness. She did not experience the premiere of her only movie.