Franz Engel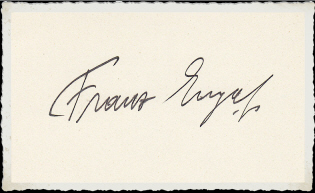 1898 - 1944
.
.
The actor and cabaret artist Franz Engel began his career at vaudeville in Vienne where he soon was very successful. He became popular with his numbers together with the cabaret artist Karl Farkas.

Thank to his popularity he was also engaged in movies sporadically, his first movie was the silent movie "Pat und Patachon im Prater" (25) with the legendary comedian duo Harald Madsen and Carl Schenstrom.

His last cinematical works came at the beginning of the 30s into being with "Der falsche Feldmarschall" (30) in the role of the cabaret entertainer Wolhmuth und as Reporter Eckstein in Otto Preminger's "Die grosse Liebe" (31) with Hansi Niese and Attila Hörbiger.

Afterwards he concentrated again to his stage career. He realsised some records with his numbers and he shared the management of the stage "Moulin Rouge" with Karl Farkas. Beside it he also appeared on stage as a classic actor at different theaters.

His career came to an abrupt end when Austria became integrated to Germany. As a Jew he could no longer work and he live in the Netherlands from now on.
There he was able to continue his artistic career and he even went on tour to Switzerland and France. But the pretended safety was deceptively.

The German army marched in in the Netherlands in 1940. First Franz Engel was able to continue his works there but in 1944 he was arrested and was brought to Westerbork. It followed the deportation to Theresienstadt and finally to Auschwitz where he was killed in the gas chamber.