Maria Elsner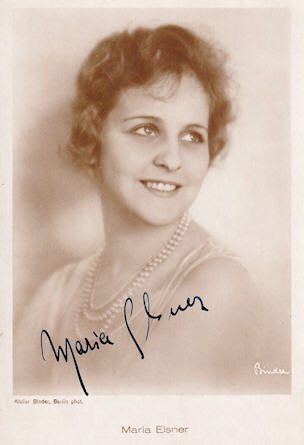 Foto: Alexander Binder (1888-1929)

1905 - 1983
.
.
The singer and actress Maria Elsner was well-known as a singer primarily.
She began her career in 1928 a the Stadttheater Freiburg where she appeared as a singer and actress.

She experienced the height of her singing career in the 30s and she was very successful as Adele in "Die Fledermaus" which she also performed outside of Germany, so in Austria and France.

Because of her huge popularity in operas and operettas the film business became aware of Maria Elsner and she was able to impersonate few roles at the beginning of the 30s.

To her cinematical works belong "Das lockende Ziel" (30) playing Cora Garden with Richard Tauber, Lucie Englisch and Oskar Sima, as Tilly Brömmel in Georg Jacoby's "Die Lindenwirtin" (30) with Käthe Dorsch and Fritz Schulz, "Die grosse Attraktion" (31) with Richard Tauber and Sig Arno as well as "So'n Windhund" (31) at the side of Ralph Arthur Roberts, Max Adalbert and Lucie Englisch. In this movie she played Nina Noir.

Her career in Germany came to an end because of her Jewish origin and she went to Prague where she was able to continue her stage career.

In order to get the Hungarian citizenship she got married with the writer Ödön von Horvath at the end of 1933. Only 10 months later the marriage became divorced.
Maria Elsner returned to Vienna afterwards where she lived despite her Jewish ancestry.

After World War II she went to London where she worked for the BBC radio.
She also continued her stage career there till 1947 before she got married with the industrialist John Fisher heiratete. They committed suicide together in 1983.