Midy Elliot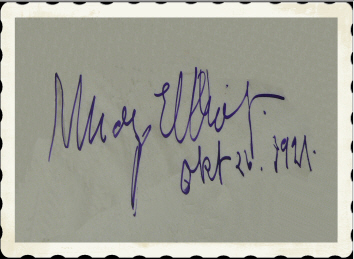 ? - ?
.
.
The actress Midy Elliot made her film debut in 1919 with "Der letzte Knopf" (19) with Karl Forest.

In the 20's followed few more cinematical appearances, among them "Der Roman der Komtesse Ruth" (20) directed by Hans Otto with Joseph Schildkraut and Eugen Neufeld, "Winterstürme" (20) with Max Neufeld, Karl Ehmann and Eugen Neufeld and "Spatzenherz" (21) directed by and with Karl Ehmann.

In 1922 she impersonated the role of the squire Don Ramiros in the production "Der tote Hochzeitsgast" (22) at the side of Eugen Neufeld, Max Neufeld, Karl Ehmann, Carmen Cartellieri and Josef Recht.

Her last appearance in front of the camera was for "Leibfiaker Bratfisch" (25) with Georg Kundert, Eugen Neufeld and Dora Kaiser.