Fritz Eckert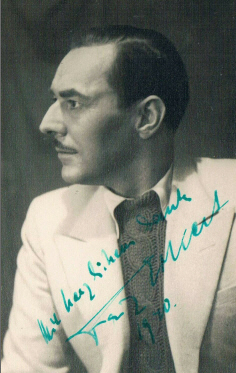 Foto: Kurt Grote

1902 - 1942
.
.
The actor Fritz Eckert was born on November 28, 1920 in Gleiwitz. He began his career at the theater where he was a member of the Reinhardt-Bühne. He appeared in plays like "Ehe von Welt", "Tobby" and "Spiel im Schloss".

One of his first movies was "Der letzte Walzer" (27), it followed the silent movie "Der Zarewitsch" (29).

He impersonated several support roles in the sound film of the 30s and 40s. To these movies belong "Das Hofkonzert" (36), "Sensationsprozess Casilla" (39), "Eine Frau wie Du" (39), "Friedrich Schiller" (40) and "Tanz mit dem Kaiser" (41).

Afterwards followed a grievous stroke of fate. Fritz Eckert was arrested by the Gestapo and they brought him to the concentration camp Mauthausen on January 2, 1942. The reason for the arrest is unknown - the official reason was "protective custody". Maybe it were political reasons or contact with unwanted persons like Jewish fellow citizens. He got the number 5220.
Fritz Eckert was shot on March 4, 1942 during an allegedly attempt to escape (*).

(*) The entry "shot on the run" was a usual justification for the death of a prisoner. In most of these cases the prisoner was forced to overstep the "Postenkette" for justifying a shooting. Indeed the involved guards were suspended and brought to an SS- and police trial but they usually got an acquittal because the shooting happend in performance of duty.


Other movies with Fritz Eckert:
Die Zirkusprinzessin (29) Der Gouverneur (39) Kongo-Express (39) Wir tanzen um die Welt (39) Kriminalkommissar Eyck (40) Wie konntest Du, Veronika! (40) Falschmünzer (40)

.

. Driver license of Fritz Eckert, issued on December 7, 1928