Paul Schneider-Duncker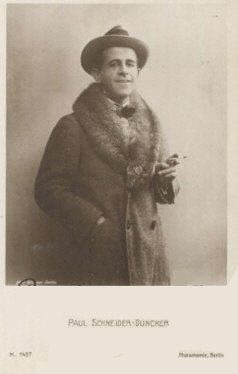 Foto: Wilhelm Willinger (1879-1943)
1878 - 1956
.
.
The singer and actor Paul Schneider-Duncker was well-known for his singing and his appearances as a cabaret artist.
Beside it he took part in few movies of the 30s.

He became popular from 1904 when he founded the cabaret "Roland von Berlin" together with Rudolf Nelson. He was successful with his chansons and became a popular entertainer.

In the film business he took part in the productions "Der unmögliche Herr Pitt" (38) with Harry Piel, Willi Schur, Leopold von Ledebur and Hilde Weissner - in this movie he impersonated the role of the secretary, Carmine Gallone's "Il sogno di Butterfly" (39) with Maria Cebotari, Lucie Englisch and Fosco Giachetti and in the role of Mr. Jolle in Jürgen von Alten's short movie "Die hundert Mark sind weg" (39) with Kurt Meisel, Dorit Kreysler and Kurt Ackermann.