Dely Drexler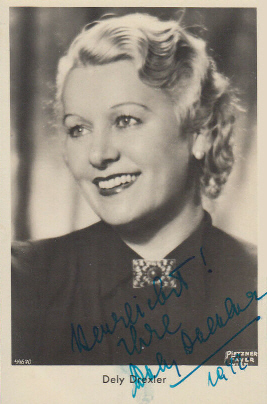 Foto: Georg Fayer (1892-1950)

1898 - 1969
.
.
The actress Dely Drexler took part in few movies in the silent movie era.

Her first role in front of the camera was Suza in "Der Rastelbinder" (26) with Louis Treumann, Franz Glawatsch, Robert Valberg and Oscar Marion.
Afterwards followed with Hans Otto Löwenstein's "Das Leben des Beethoven" (27) at the side of Fritz Kortner and Heinz Altringen her last movie for the time being.

It lasted more than 25 years before she appeared in a movie for the last time.
She acted in "Ehestreik" (53) directed by Joe Stöckel with Erich Auer, Elise Aulinger, Beppo Brem and Gustl Gstettenbaur.