Mary Dietrich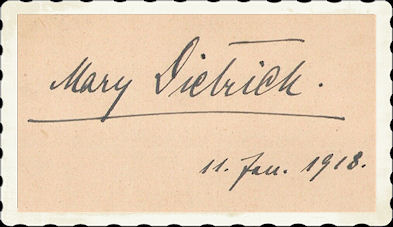 1896 - 1951
.
.
The actress Mary Dietrich was a busy theater actress who only appeared seldom in front of the camera.

She played her first film role with Galathea in 1913 for Max Reinhardt's "Die Insel der Seligen" (13) with Wilhelm Diegelmann, Ernst Hofmann, Leopoldine Konstantin, Friedrich Kühne, Ernst Matray and Greta Schröder.

Afterwards she concentrated again to the stage and it lasted till 1939 before she took part again in a movie.
She played a small role in "Der letzte Appell" (39) at the side of Gerhard Bienert, Helmut Brasch, Peter Elsholtz, Emil Jannings, Werner Krauss and Paul Hubschmid.

Finally she went to the USA where she acted a last time in a movie. As Barkova she appeared in Frank Tuttle's "Hostages" (43) with Luise Rainer, William Bendix, Paul Lukas, Oskar Homolka, Reinhold Schünzel and Felix Basch.

Mary Dietrich was married with the architect Alois Schardt.