Betty Darmand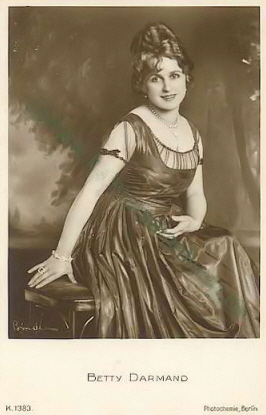 Foto: Alexander Binder (1888-1929)

? - ?
.
.
The actress Betty Darmand appeared for "Börse und Adel" (16) directed by Felix Basch in front of the camera for the first time. To her co-stars belonged Harry Liedtke and Hermann Vallentin.

Again for Felix Basch she took part in "Die Laune einer Modekönigin" (16) at the side of Harry Liedtke, Albert Paulig and Manny Ziener

In her last movie "Hotel Esplanade" (19) she impersonated the role of the marquise de Barrini with Paul Bildt and Grit Hegesa.