Josef Danegger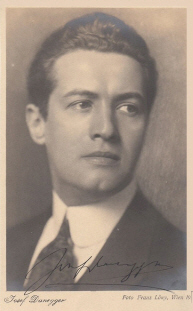 Foto: Franz Löwy (1883-1949)

1865 - 1933
.
.
The actor Josef Danegger was born as Josef Deutsch in Mischkolz.

he got a singind education at the opera of Budapest and afterwards he took acting lessons in Vienna by famous teachers like Bernhard Baumeister.

He got his fist stage engagement at the Deutsches Theater which performed in New York. Afterwards followed engagements in other cities like Cologne, Berlin, Zurich and finally Vienna. He already realised plays as a director since the 1890s as well.

Josef Danegger only appeared seldom in front of the camera, his first movies came in 1916 into being with "Der Tod des Erasmus" (16) and "Die nicht sterben sollen..." (16).
Afterwards followed the silent movies "Irrende Liebe" (17) and "Die Else vom Erlenhof" (19) before he retired from the film business for the time being to concentrate again to the theater exclusively.

He only made his comeback in the sound film era of the 30s and he impersonated few roles in the productions "Der Tanzhusar" (31), "Einmal möcht' ich keine Sorgen haben" (32), "Ich will Dich Liebe lehren" (33), "Salto in die Seligkeit" (34) and "Bretter, die die Welt bedeuten" (35).

Besides his activity as an actor and theater director he was also active as an acting teacher. To his most famous students belonged Maria Andergast, Leopold Lindtberg, Egon von Jordan and Heinrich Gretler.

Josef Danegger was married with the actress Bertha Müller. His sons Josef Danegger jr. and Theodor Danegger became well-known actors too and his daughter Mathilde Danegger was also a busy actress. His granddaughter Karin Lesch became an actress too.