Charlotte Dahler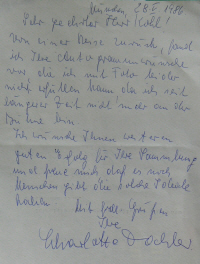 1913 - ?
.
.
The actress Charlotte Dahler normally acted on stages in Germany, the film business only had an unsignificant role in her career.
Therefore the number of her movies remained low and her roles were small.

She made her screen debut with "Der müde Theodor" (36) with Weiss-Ferdl, Erika Glässner and Gretl Theimer. She played a concertgoer.

Afterwards she impersonated the role of a flower seller in "Die Stunde der Versuchung" (36) with Gustav Fröhlich, Lida Baarova, Harald Paulsen and Theodor Loos.

Her last movies already came in 1937 into being. In the movie "Die Stimme des Herzens" (37) she was a ticket agent at Benjamino Gigli's side. The other stars were Ferdinand Marian, Fritz Odemar and Hubert von Meyerinck.