Ladislaw Czettel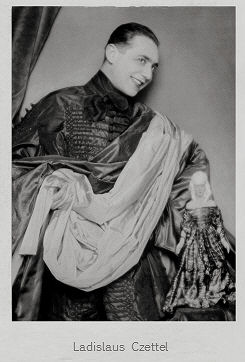 Foto: D'Ora Kallmus (1881-1963)
Mit freundlicher Genehmigung
Österreichische Nationalbibliothek Copyright

1895 - 1949
.
.
The costume designer Ladislaw Czettel was born as Laszlo Fulop Donath in Budapest. His father already died before the birth of Ladislaw Czettel and when his mother got married with Odon Czettel in 1898 he adopted her son.

Er began his professional life as a fashion designer after World War I and he soon became well-known in his hometown.
Afterwards he also worked in metropolises like Paris and Vienna and in Austria he also got in touch with the theater. There he saw the possibility to create costumes outside of the actual vogue and he could create costumes for very different ages and also fanciful designs.
His works led him to Berlin where he worked for Max Reinhardt at the Deutsches Theater.

Ladislaw Czettel was also engaged for few movies as a costume designer.
To his first cinematical works belong among others "Miss Hobbs" (21) with Josef König and Marietta Cartellieri as well as Michael Curtiz's "Das Spielzeug von Paris" (25) with Lily Damita, Hugo Thimis, Hans Moser and Theo Shall.

In the 30s he created the costumes for the movies "Einbrecher" (30) with Heinz Rühmann, Willy Fritsch and Lilian Harvey. As a Jew he had to leave Germany and he went to Austria where he took part at numerous plays and even in one more movie - "Tagebuch der Geliebten" (35) directed by Henry Koster with Lili Darvas, Hans Jaray and Szöze Szakall.

But also Austria was no longer a secure place for him from 1938 and he emigrated to England. There he created again the costumes for a movie for "Pygmalion" (38) with Leslie Howard, Wendy Hiller and Marie Lohr.
Afterwards Ladislaw Czettel went to the USA where he earned his living as a teacher at the Dramatic Workshop. Moreover he also created costumes for Broadway plays, among them "Die Fledermaus" and "Helen Goes to Troy".

Ladislaw Czettel committed suicide at the age or 53 in New York in 1949.