Gustav Charlé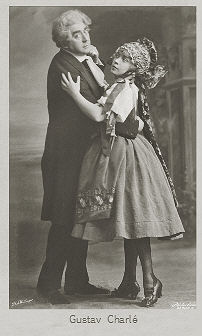 Foto: Wilhelm Willinger (1879-1943)

1871 - ?
.
.
The actor and singer Gustav Charlé put his intention to take up an artistic profession into practice in 1889 and he joined an operetta troup who went on tour through Austria.
Finally his acting abilities was spotted and he was engaged at bigger domains, among them Salzburg, Munich, the Theater in der Josefstadt in Vienna and the Friedrich Wilhelmstädtische Theater in Berlin.

In 1897 he made a detour to New York where he also worked as an actor.

Despite his success as a stage actor he continued his engagement as an operetta singer and he took part in plays like "Der Vogelhänder" and "Don Cesar".

Thank to the huge popularity as a folk actor he got few engagements in silent movies.
His first appearance in front of the camera was for "Schwarzwaldmädel" (20) with Uschi Elleot, Ria Jende and Oskar Linke. Here he played the dome bandmaster.

He impersonated the role of Paolino Teillard in the movie "Le fauteuil 47" (26) - a German-French production with André Roanne, Erna Morena, Lotte Stein, Margarete Kupfer and Otto Tressler.

His last cinematical work followed with the role of the servant Konstantin in Friedrich Zelnik's top-class casted production "Das tanzende Wien" (27) at the side of Lya Mara, Ben Lyon, Alfred Abel, Eugen Burg, Albert Paulig, Julius Falkenstein, Arthur Kraussneck, Kurt Gerron, Hermann Picha and Hans Wassmann.