Viktor Carter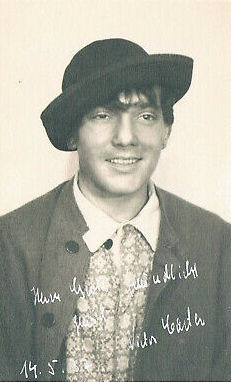 Foto: Kurt Grote

1912 - 1942
.
.
The actor Viktor Carter (also Victor Carter) was born on November 30, 1912.
As a stage actor he played in Berlin, among others also at the Deutsches Theater.

He joined the film business at the beginning of the 30s and he impersonated his first role in Geza von Bolvary's "Liebeskommando" (31) with Dolly Haas, Gustav Fröhlich, Livio Pavanelli, Anton Pointner, Tibor von Halmay, Paul Morgan and Wilhelm Bendow.

Afterwards he played the nephew Fritz in the short movie "Karl als Radiofachmann" (33) with Gerhard Dammann, Olga Engl and Antonie Jaeckel.

it followed "Wenn ich König wär'" (34) at the side of Camilla Horn, Viktor de Kowa, Paul Westermeier, Walter Steinbeck, Eugen Rex, Hans Mierendorff and Paul Rehkopf, Gustav Ucicky's "Savoy-Hotel 217" (36) with Hans Albers, Brigitte Horney, René Deltgen, Gusti Huber, Käthe Dorsch, Jakob Tiedtke and Hans Leibelt as well as "Das Gewehr über" (39) directed by Jürgen von Alten with F. W. Schröder-Schramm, Rolf Möbius, Rudi Godden, Carsta Löck, Wolfgang Staudte and Leopold von Ledebur.

His last cinematical works came at the beginning of World War II into being with "Nanette" (40) with Jenny Jugo, Hans Söhnker, Albrecht Schoenhals, Olga Limburg, Flockina von Platen, Siegfried Breuer and Hans Stiebner, "Liebesschule" (40) with Luise Ullrich, Viktor Staal, Johannes Heesters, Hans Brausewetter, Beppo Brem and Charlott Daudert as well as "Fahrt ins Leben" (40) at the side of Hedwig Bleibtreu, Eduard Bornträger, Fred Goebel, Ruth Hellberg, Herbert Hübner and Karl Platen.

Viktor Carter died on Dezember 22, 1942 at the age of only 30. The reason of his premature death is not known so far.