Fritz Busch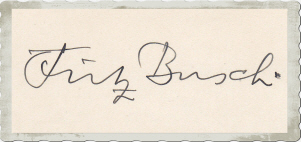 1890 - 1951
.
.
The actor Fritz Busch took part in few movies from 1937.

To his first appearances in front of the camera belong "Die Warschauer Zitadelle" (37), "Der Katzensteg" (37), "Kitty und die Weltkonferenz" (39) and "Kornblumenblau" (39).

His last cinematical works came during World War II into being, among them the classic "Münchhausen" (43) and "Ich vertraue Dir meine Frau an" (43).