Gisa Bund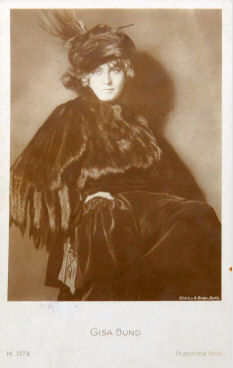 Foto: Alexander Binder (1888-1929)
? - ?
.
.
The actress Gisa Bund was active at the theater in the first place, she only rarely took part in movies too.

She impersonated her first movie role in Otto Rippert's "Friedrich Werders Sendung" (16) with Gustav Botz, Carl de Vogt, Theodor Loos and Eva Speyer.

Afterwards she played the role of Lore Michelis in Otto Rippert's "Der Schwur der Renate Rabenau" (17) at the side of Hella Moja, Magnus Stifter, Mogens Enger and Anna von Palen.

Her last cinematical work was "Die Sündenkette" (17) again directed by Otto Rippert with Theodor Loos and Nelly Lagarst.