Hans Brockmann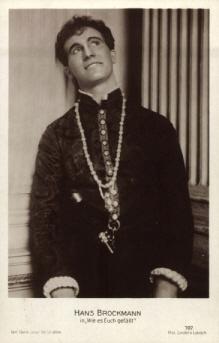 Foto: Siegmund Labisch (1863-1942)

1893 - 1982
.
.
The actor Hans Brockmann was born as Johannes Thomas Kraus in Bochum. He came to the theater at the end of the 10s and he already got an engagement at the famous Deutsches Theater in Berlin in 1920 where he worked for Max Reinhardt.
It followed engagement at other theaters in Berlin, Salzburg, Frankfurt and Dresden.

He already appeared in first silence movies from 1919 like "Die Nacht des Grauens" (19) directed by Fred Sauer with Mady Christians, Werner Funck and Erika Glässner, "Die Schuld" (19) with Olga Engl, Henny Porten and Georg H. Schnell and "Eines grossen Mannes Liebe" (19) with Lotte Neumann and Felix Basch.

His last feature movies came at the beginning of the 20s into being with "Kakadu und Kiebitz" (20) directed by Erich Schönfelder playing the role of the zoology doctor Hans Reimers with Ossi Oswalda, Victor Janson and Hans Junkermann, Johannes Guter's "Die Frau im Himmel" (20) with Alfred Abel, Julius Brandt, Lil Dagover and Werner Krauss and "Der Mensch am Wege" (23) directed by Wilhelm Dieterle at the side of Alexander Granach, Wilhelm Dieterle, Heinrich George, Marlene Dietrich, Wilhelm Diegelmann and Fritz Rasp.

Only many years later Hans Brockmann appeared in front of the camera again, this time for the TV production "Im sechsten Stock" (54) with Inge Meysel, Ingrid Andree, Robert Meyn, Hanns Lothar and Heinz Drache.