Max Brebeck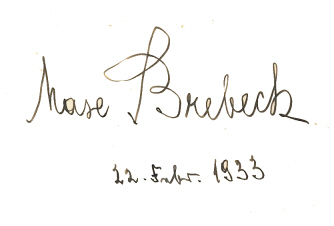 1891 - 1969
.
.
The actor Max Brebeck normally acted on stages, he only was seldom active in the film business.

To his first movies belong "Der Schandfleck" (17) with Liane Haid and "Wildfeuer" (20) directed by and with Max Neufeld.

His appearances in front of the camera kept seldom in the talkies, among others he took part in "Singende Engel" (47) by Gustav Ucicky, "1. April 2000" (52) by Wolfgang Liebeneiner, "Sissi - Die junge Kaiserin" (56) with the unforgettable Romy Schneider and "Radetzkymarsch" (65) with Helmut Lohner.