Harriet Bosse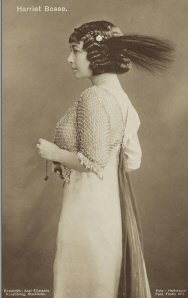 Foto: Ferdinand Flodin (1863-1935)

1878 - 1961
.
.
The actress Harriet Bosse began her stage career at a company of her sister Alma Fahlstrom, it followed engagements in Stockholm which made Harriet Bosse a well-known stage actress.
There she met the writer August Strindberg and they got married in 1901. At that time Harriet Bosse impersonate many leading roles in plays written by Strindberg.

Because August Strindberg was insanely jealous and the marriage was an up and down - which is reflected in many letters who were published later - and the marriage was divorced.Da August Strindberg krankhaft eifersüchtig war und ihre Ehe ein Auf und Ab war - was in verschiedenen Briefen, die später veröffentlicht wurden, zum Ausdruck kam - wurde die Ehe wieder geschieden.

The year 1912 was a year of loss for Harriet Bosse. Her ex-husband August Strindberg died of cancer, her nephew Arne Fahlstrom died by the sinking of the Titanic and her second ex-husband Gunnar Wingard committed suicide.

Harriet Bosse entered the film business in 1919 and she appeared in front of the camera for the Swedish silent movie "Ingmarssönerna" (19) with Victor Sjöström and for the German silent movie "Kameraden" (19) with Alfred Abel.
Her last silent movie came in 1920 into being with "Karin Ingmarsdotter" (20) directed by Victor Sjöström.

It lasted 16 years before Harriet Bosse took part in a movie again with "Bombi Bitt och jag" (36). Afterwards followed her last cinematical works in the 40s with "Anna Lans" (43) and "Appassionata" (44).

After her divorce from August Strindberg she got married with the actors Anders Gunnar and Edvin Adolphson. Besides her sister Alma her sister Dagmar Bosse became a stage actress too.