Bernhard Bötel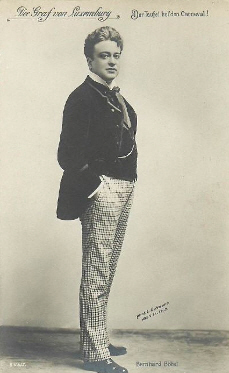 Foto: Ludwig Gutmann (1869-1943)
1883 - 1953
.
.
The actor and tenor Bernhard Bötel was born as the son of the tenor Heinrich Bötel. He chose the same profession as his father and took singing lessons by Mathieu Lorent in Hamburg and Ernst Grenzebach in Berlin. He made his stage debut in 1905 at the Theater Aachen, afterwards followed perennial engagements at the Comical Opera in Berlin and at the Theater an der Wien.

He had his greatest successes as a singer, among others he impersonated the role of Armand Brissard in the world premiere of the operatta "Der Graf vonLuxemburg" in 1909, written by Franz Lehar.

In the next years he appeared on different stages, often at the Berlin State Opera and at the Kroll Opera House.
He retired from the stage in 1935.

Now and then he also appeared as an actor in front of the camera, to his few movies belong "Martha" (14), "Rheinzauber" (20) with Karl Harbacher and "Trick-Track" (21) with Charlotte Ander, Henry Bender, Ida Perry and Carl Geppert, directed by Emil Albes.