Karl Blasel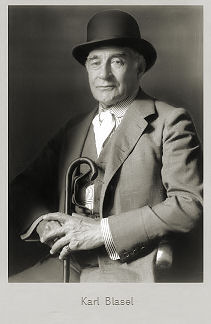 Foto: D'Ora Kallmus (1881-1963)
Mit freundlicher Genehmigung
Österreichische Nationalbibliothek Copyright

1831 - 1922
.
.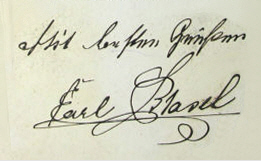 The actor and theater director Karl Blasel began his artistic career already as a child when he joined the "Wiener Sängerknaben" at the Hofopera.

He also was able to gain a foothold in the theater scene as an adult and he made his stage debut at the theater in Laibach in 1849. After engagements at other smaller theaters he was engaged at the Theater an der Wien in 1863 and at the Carlstheater in 169. He soon became an important personality of the Austrian theater scene.

On stage he was especially successful as a comedian and he entertained the audience till to the old age.

Karl Blasel also took over the direction of several theaters, among others he became the director of the Theater in der Josefstadt in 1885 and of the Carlstheater in 1889 as well as of the Wiener Theater.

Because of his popularity Karl Blasel also took part in few silent movies, among them "Ein Walzertraum" (08) at the side of Fritz Werner, Richard Waldemar and Dora Keplinger.

Three years later he played the role of the Count Oppenheimer under the direction of Luise Kolm in the movie "Der Unbekannte" (11). To the cast belonged Claire Wolff-Metternich, Käthe Gold playing her first film role at the age of 3, Victor Kutschera, Hans Lackner, Karl Ehmann, Anton Edthofer and Hans Homma.

His unbroken popularity is underlinded by the fact that his last movie even used his name in the title. As a dentist he appeared a last time in front of the camera for "Karl Blasel als Zahnarzt" (13). On stage he remained active till after his 90th birthday.

Karl Blasel was married with the actress Johanna Wellen. His son Leopold Blasel became an actor too.