Erwin Biswanger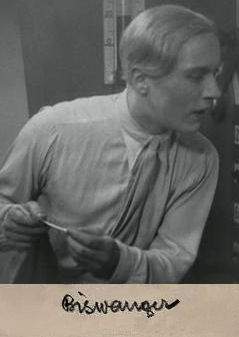 Lichtbild aus "Metropolis" 1927
1896 - 1944
.
.
The actor Erwin Biswanger began his career at the theater, among others he appeared at the Lessing Theater in Berlin. It followed engagements at other theaters in Germany.

His first appearance in a movie was in 1919 into for "Morphium" (19) with Rudolf Klein-Rogge, Emil Albes and Olga Engl.

His last movies came already in the 20s into being and he impersonated roles in productions like "Uriel Acosta" (20) with Margit Barnay and Bruno Decarli, "Wildes Blut" (20) with Dagny Servaes and Rudolf Klein-Rogge, "Unter Räubern und Bestien" (21) with Carl de Vogt, playing the role of Eulenber in "Erdgeist" (23) with Asta Nielsen, Albert Bassermann, Heinrich George and Alexander Granach, "Die Fahrt ins Verderben/Op hoop van zegen" (24) with Adele Sandrock and Hans Adalbert Schlettow as well as "In Treue stark" (26) at the side of Otto Gebühr, Paul Richter nd Aud Egede Nissen. In this movie he played the character Helmut Eyck.

His most grateful roles he got offered by Fritz Lang in his two most important silent movies.
As Giselher he took part in the monumental movie "Die Nibelungen" (24). to the co-stars belonged Paul Richter, Theodor Loos, Rudolf Klein-Rogge, Margarete Schön, Hanna Ralph and Gertrud Arnold and finally he acted in the science-fiction classic "Metropolis" (26) with Alfred Abel, Gustav Fröhlich, Brigitte Helm, Theodor Loos, Rudolf Klein-Rogge and Fritz Rasp. In this production he played the worker No 11811 called Gregory (see picture on the left).

Afterwards his film career ended and even on stage he hardly made an appearance.

Only as a screen writer he co-operated in movies again. To his screenplays belong "In letzter Minute" (39), "Tip auf Amalia" (40), "Die grosse Nummer" (43) and "Gesprengte Ketten/Panik" (43/53).

Only one year later Erwin Biswanger died at the age on 47 at the Heil- and Pflegestätte in Berlin-Buch.