Armin Berg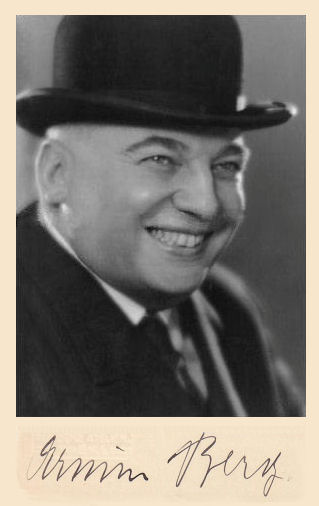 Foto: Georg Fayer (1892-1950)

1883 - 1956
.
.
The actor Armin Berg was born as Hermann Weinberger in Hussowitz.

He became interested in humor at a young age and he made first experiences as a comedian from 1898. He got engagements in Leitmeritz, Teplit and finally Vienna where he appeared at numerous cabarets.

His focus remained on the stage therefore he only appeared seldom in front of the camera.
He made his screen debut with "Charles, der Wunderaffe" (15), one year later followed the movie "Sami, der Seefahrer" (16).

His last cinematical work was "Die Stadt ohne Juden" (24).

His successful stage career came to an end with the rise of the National Socialism and Armin Berg had to emigrated to the USA in 1938. He got different small jobs in order to earn his living, time and again he was also able to work on stage again.

Armin Berg returned to Vienna in 1949 - the place of his success former successes. But he was not able to continue his career successfully. He returned to the USA for few years but spent his last three years in Vienna again.