Paul Bender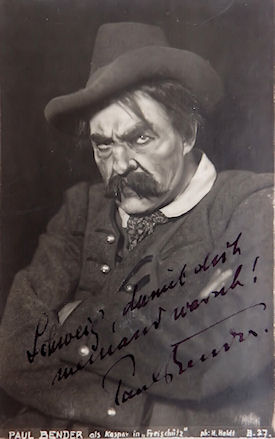 Foto: Hanns Holdt (1887-1944)

1875 - 1947
.
.
The actor and singer Paul Bender first studied medicine, beside it he also got singing lessons.

He made his stage debut in 1900 at the opera in Breslau, three years later he went to Munich where he spent the rest of his artistic career.

Besides his engagements in Munich he also made some side trips to other destinations like the Richard-Wagner-Festspielen in Bayreuth. But he also performed abroad in cities like Brussel, Vienna, Paris, London, Zurich, Milan and New York.

He was appointed to the title Königlich-bayerischen Kammersänger in 1907.

Paul Bender who also paid attention to his acting abilities during his opera performances already took part in his first movie in 1907.
In the movie "Martha" (07) he acted at the side of Hilde Knoth.

But his cinematical appearances remained seldom.
In the production "Nerven" (19) directed by Robert Reinert with Eduard von Winterstein, Lia Borré, Erna Morena and Lili Domenici he impersonated the important role of the teacher Johannes.

Besides his activity as a singer and actor Paul Bender also worked at the academy of musical art in Munich where he got lessons for numerous students as a professor.

Paul Bender was married with the singer Paula Brand.