Friedrich Basil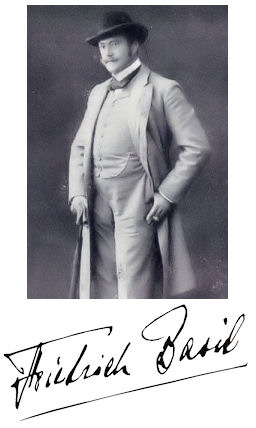 Foto: Gemeinfrei gem. Wikipedia
1862 - 1938
.
.
The actor Friedrich Basil was born as Friedrich Meyer in Frankfurt an der Oder.

Before he started his career at the theater he studied philosophy but in his fourth year he dedicated to the acting. Finally he got an engagement at the theater union Heinrich Laube in Berlin.

In the next years followed appearances in Lübeck, Oldenburg and finally Berlin where he acted at the Deutsches Theater from 1891. Three years later he went to Munich where he became a regular actor at the Hoftheater till to the end of his career. In Munich he also realised plays as a director. He became a Kammerschauspieler and was very successful.

Friedrich Basil joined the film business in 1918 and his first appearance in front of the camera was for "Kaena/Das Werk der Rachegöttin" (18) with Ferdinand von Alten and Georg Henrich.

In the 20s followed his last cinematical works.
He took part in the productions "Dämon Weib" (18) directed by Hans Oberländer with Karl Graumann and Max Weydner, "Richtet nicht" (20) at the side of Franz Seitz and Gerd Benofsky, "Dämon Liebe" (20) with Karl Graumann, Hertha von Hagen and Gustav Waldau as well as Franz Seitz's "Der Weg zu Gott/Das Schicksal des Thomas Balt" (24) with Eduard von Winterstein, Paul Biensfeldt, Wilhelm Diegelmann, Olaf Fjord, Fritz Kampers, Ferdinand Martini and Agnes Straub.

Besides his activity as an actor and director Friedrich Basil also gave acting lessons. To his well-known students belonged Heinz Rühmann, Heinz Klingenberg and Franz Wedekind. Moreover he also teached the later dictator Adolf Hitler in gesture and rhetoric in 1919.

His brother Hans Basil became an actor and opera singer.