Paul Baratoff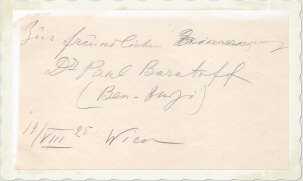 1872 - 1951
.
.
The actor Paul Baratoff as active as a stage actor in the first place. From 1921 he also took part in silent movies for a few years.

To his silent movies belong "Ich hab's getan" (21), "Der Lumpensammler von Paris" (22), "Das Spiel ist aus" (22), "Der Unbekannte aus Russland" (22), "Zigeunerliebe" (22) and "Führe uns nicht in Versuchung" (22).

Afterwards he concentrated to his stage career again.

His career came to an interruption by his emigration. During the 40s he was able to continue his film career abroad with few more productions.
To these movies belong "The Men in Her Life" (41), "They Raid by Night" (42), "Song of Russia" (44), "A Royal Scandal" (45) and "The Vicious Circle" (48).