Rudolf Bandler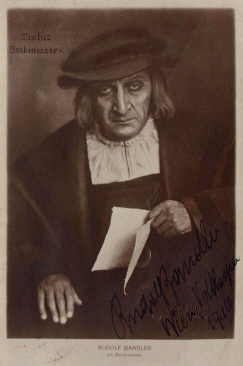 Foto: A. M. Schein (?-1950)
1878 - 1944
.
.
The singer and actor Rudolf Bandler began his artistic career at the Stadttheater Trier where he appeared in 1904 for the first time. In the next years followed engagements in Essen, Vienna, Cologne, Bremen, Hamburg and Prague.

Between followed tours to countries like Argentina and Brazil.

Thank to his huge popularity as a singer he got an engagement for a movie in 1922. He impersonated the role of a jester in Julius Herska's "Meriota, die Tšnzerin" (22) at the side of Maria Mindzenty, Nora Gregor, Oscar Beregi, Max Devrient, Victor Kutschera, Ferdinand Mayerhofer and Anna Kallina.

With the rise of the National Socialism he career came to an end. As a Jew he was no longer able to work in Germany.
He went to Prague. But with the invasion of Germany in 1939 he was deported together with his wife and daughter to the Polish ghetto Litzmannstadt two years later.

Both he and his wife died in the ghetto Litzmannstadt. His daughter was deported to the KZ Auschwitz and survived.
After the war she went to England where she died in 1964 at the age of only 40.

Rudolf Bandler was married with the piano player Elisabeth Bandler. His brother Heinrich Bandler was a well-known musician and band leader.