Ilse Bachmann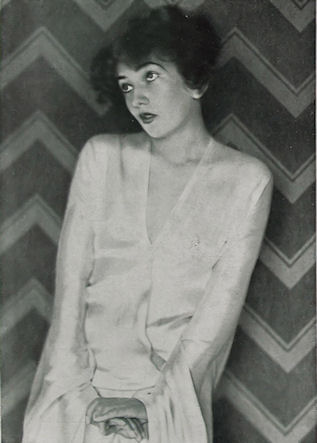 Foto: Grete Kolliner (1892-1933)

1902 - 1985
.
.
The actress Ilse Bachmann only appeared sporadically in front of the camera.

She impersonated the role of Anita Haldern in her first movie "Abwege" (28) directed by Georg Wilhelm Pabst at the side of Gustav Diessl, Brigitte Helm, Hertha von Walther, Jack Trevor, Fritz Odemar, Nico Turoff and Elga Brink.

One year later followed her last cinematical work with Karl Grune's "Katharina Knie" (29) with Eugen Klöpfer, Carmen Boni, Adele Sandrock, Fritz Kampers, Vladimir Sokoloff, Viktor de Kowa, Peter Voss, Frida Richard, Willi Forst, Louis Treumann and Wilhelm Diegelmann.

Ilse Bachmann was married with the famous filmcomposer Werner Richard Heymann from 1931 to 1938. With the rise of the National Socialists both had to leave Germany in 1933 and they went to Paris.