Ewald Bach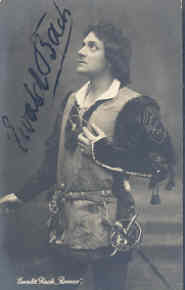 1871 - 1920
.
.
The actor Ewald Bach dedicated his career exclusively to the theater.

His only appearances in front of the camera were for the movies "Flimmersterne" (18) with Elli Glässner, Fritz Junkermann, Hans Junkermann, Friedrich Kühne and Paul Biensfeldt as well as "Malaria" (19) directed by Rochus Gliese with Adele Sandrock, Lyda Salmonova, Martin Lübbert and Ernst Waldow.

Only one year later he died at the age of 49.