Max Auzinger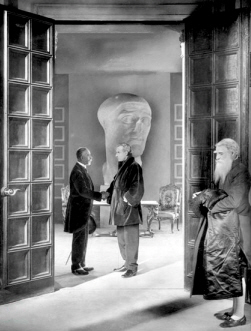 Lichtbild aus "Michael" 1924 (Auzinger rechts)

1839 - 1928
.
.
The actor Max Auzinger began his professional career in the carpet industry before he dedicated to the theater.
There he first appeared in normal plays before he developed his fascination for the "black theater" where the performer wears black clothes and paint his face black in order to act in front of a black background. With this the performers were able to create special effects.
Max Auzinger used the pseudonym Ben Aly Bey and he was very successful in this field - both as an actor and director. He distributed his performances with a touch of magic and he enchanted the audience with his illusions.

Because of his popularity he also got engagements for some movies during the 10s and he might had belong to the oldest actors at all with being born in 1839. To his early movies belong "Menschen und Masken" (13), "Nirwana" (16), "Die Dame mit dem Monokel" (27), "Die Stunde der Vergeltung" (18) and "Alraune, die Henkerstochter, genannt die rote Hanne" (18).

His last cinematical works came in the 20s into being with "Der Tod versöhnt" (20) and "Michael" (24).

Max Auzinger also used other pseudonyms during his career like Weinstein and Maxistan A. Uzinger.