Leo Ascher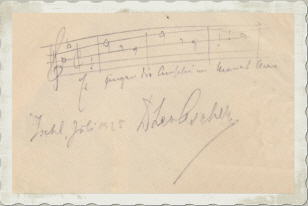 1880 - 1942
.
.
The composer Leo Ascher got an education for piano and composition at the conservatory for music in Vienna.

Beside it he studied law which he finished successfully in 1904.

He had his first success as a composer in 1925 when his first operetta "Vergelt's Gott" was performed. In the next years followed many other operettas, among them "Die arme Lori" (09), "Der fromme Silvanus" (10), "Das Salonfräulein" (10), "Die keusche Suzanne" (10), "Der Lockvogel" (12), "Was tut man nicht aus Liebe" (14), "Die schöne Komödiantin" (16), "Der Soldat der Marie" (16), "Was Mädchen träumen" (19), "Prinzessing Friedl" (20), "Zwölf Uhr Nachts" (20), "Ein Jahr ohne Liebe" (23), "Sonja" (25), "Ich hab dich lieb" (26), "La Barberina" (28), "Der König vom Moulin Rouge" (29), "Frühling im Wienerwald" (30) and "Um ein bisschen Liebe" (36).

In he 20s Leo Ascher also composed so-called Wienerlieder and chansons.

He already wrote the music for a movie in 1918 with "A koldusgrof" (18).
In 1927 followed the filming of his operetta "Der Soladt der Marie" (27) and in the 30s he wrote the sound for the productions "Purpur und Waschblau" (31), "Mein Leopold" (31) and "Hoheit tanzt Walter" (35) - based on one of his operettas.

Leo Ascher emigrated via France and England to the USA in 1938 after his brief arrest in Germany.
In New York he worked as a lawyer and he specialised in copy right.
As a composer he wrote other songs but was not able to tie in with his former successes.

His daughter Franzi Ascher became a writer.